1 Week To Go: Are you joining us?
Day Tickets from £59.50 + Fees
Weekend Tickets from £205 + Fees
Leeds Festival App
We've teamed up with Spotify to offer you an app that lets you check out the artists before you arrive on site, view stage times and find out important information first.
Download for iPhone
Download for Android
Leeds Indie Food At The Festival
The best in Leeds' independent food scene will be descending on the festival to fill you up in the most delicious of ways. Here's who is joining us this year (warning: will make you hungry)
View the food line-up here
Music Angel at Leeds
Music Angel Social Power are providing a brighter future for those in need at this years Leeds Festival!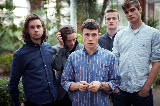 Q&A: The Maccabees
We caught up with Felix from the band to talk about falling off stage and levitating (not at the same time).
Relentless Stage
See Bondax, DJ EZ and Modestep (DJ Set) and more on the Relentless Stage until 3am every night.
BROWSE THE WEBSITE
Home News Line-Up Tickets Info Photos Videos Merch History
Copyright © 2015 Festival Republic Limited, All rights reserved.
You are receiving this email because you:
Recently purchased a ticket to a Festival Republic or EP Republic event.
Opted in via one of our competitions or when completing our survey.
Signed up via one of these websites:
Reading Festival | Leeds Festival | Latitude Festival | Electric Picnic