With over 6,000 fans over the 3 day weekend, 6 stages, and 50 plus acts, the event is back at the Minehead Arena at Butlins, on the North Welsh coast from the 11th to 14th of November this year.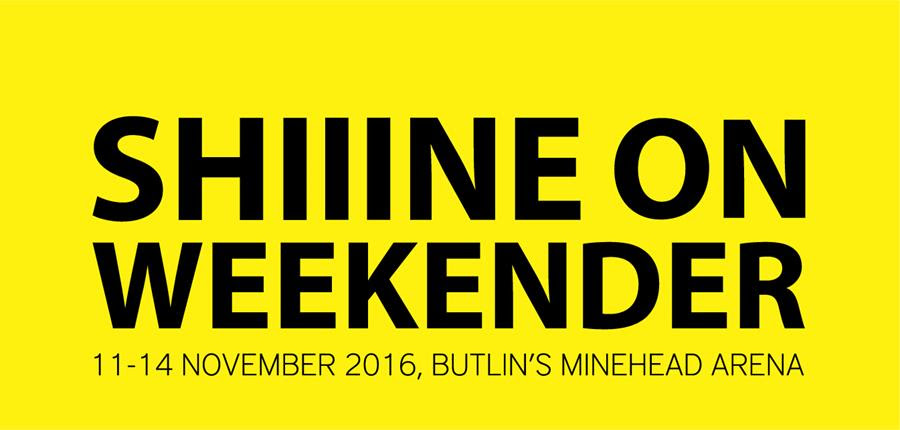 Echo & The Bunnymen, Shed Seven, Cast, Black Grape, The Wonder Stuff, The Bluetones, Paul Hartnoll (Orbital) & many more announced for Shiiine On Weekender 2016

11 – 14 Nov 2016 – Butlin's, Minehead Arena
"Shiiine On as a festival didn't just try to meet expectations but went above and beyond to deliver in all categories: from the artists booked, the great sound and stage systems to the restaurants, site and security staff. Each and every one of you is a rock star and we thank you all. Glastonbury pfft you can keep it." – Louder Than War
Following the sell-out success of the 2015 Shiiine On Weekender, the festival which showcases the best of indie and dance music, alongside some of the best up and coming new bands, returns in 2016 with another stellar line up.
The 2016 edition sees Echo & The Bunnymen, Shed Seven, Cast, Black Grape and The Bluetones play the event for the first time whilst one of the stand out performers from last year, The Wonder Stuff, triumphantly return. The main stage also sees performances from very special guests House of Love with further announcements to come over the next few months.
The dance stage once again hosts some mouth-watering acts. Paul Hartnoll will be closing the event, playing a 90-minute set of new material and Orbital classics. Paul will be joined by Utah Saints and the main man himself Eddy Temple Morris. Bentley Rhythm Ace make a live return on the Saturday joined by DJ sets from Will White (Propellerheads) and King of the beats Cut la Roc.
Other acts announced include Echobelly, Marion, The Frank & Walters, CUD, Thousand Yard Stare, Space Monkeys, Credit to the Nation, Great Scott, Symphonica featuring DJ Switch, The Railway Children , The Sex Pissed Dolls, The Clone Roses, The Smyths, Oasis UK and S*M*A*S*H.  New bands confirmed include Deja Vega andPsyence and the amazing UKE2 who wowed the crowd last year with their Ukulele based interludes.
Exhibitions and Pool Parties are to be announced in due course too with a lot to live up to following the now legendary Bez's Pool Party and Pete McKee's Thud Crackle Pop exhibition. Tickets at early bird prices are on the verge of selling out and with the latest line up announcements a sell-out is expected.
There are two warm up events in Liverpool and London at the start of March 2016 showcasing a number of the bands that played last year including The Winachi Tribe, Tram Beat and Deja Vega.
Festival tickets can be purchased HERE
Visit the Shiiine On Weekender on Twitter
Here's a little vid of the kind words from bands and fans alike, and footage from the event (Spot Bez in his funky trunks