With only 6 weeks to go until our 6th Big Feastival on the farm, we decided it seemed fitting to give you 6 of our top picks for this August Bank Holiday.
Sit back, have a read, and get excited. The Big Feastival dream is very almost a reality…
Big Love,
BF team x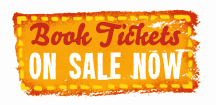 Circus Raj
This veritable super-group of Rajasthan's elite street circus performers will be showcasing breathtaking acts of courage and bravery, whilst roaming the festival! Watch out as they take this ancient, mystical and magical circus format to even greater heights.
It's impossible to pick just one thing to eat, because let's face it – the whole weekend is one big feast. But if we had to choose, The Cheese Truck's brand new mozzarella sticks are top of our list to try. What will be your #FeastivalFave this year?
Guaranteed to make you a brighter person, Tie Dye High Five says "don't buy, DIY!" Go crazy with colours, let your creativity run free and within 24 hours your whole wardrobe will be tie dyed. Taking place in our Crayons & Crafts tent.
Sing-along-a-John
For a true celebration of all things British, get yourselves down to our Village Hall for a good old fashioned knees-up. You'll find us at the piano having a daily singalong with our in-house cockney pianist Sing-along-a-John.
Gospeloke
Think Sister Act meets old School Assembly via Top of the Pops…GOSPELOKE is the 1st Gospel Style Karaoke party, where you'll be given the chance to perform alongside London's hippest urban choir with classics such as Ain't No Mountain Higher Enough, Purple Rain and Say A Little Prayer.
Be King or Queen of the Festival and create your own beautiful floral crown! Using fresh, fragrant British blooms, Forget Me Not Floral Designs will help you stand out from the crowd with your own personally designed flower crown. Workshops will takeplace in the Village Hall.
Life admin…
Behind every success lies careful planning. Team leaders take note: programme lanyards are now available to pre-order alongside your tickets! This will be your go-to guide for full timetables and listings of everything going on over the weekend. If you already have your festival tickets and just want to buy a lanyard, you can do that here.