It's the moment you've all been waiting for…our Feasts and Banquets are open for bookings!
As always, our Friday Night Supper Club will be a foodie highlight of the weekend and this year's line-up led by Gizzi Erskine is certainly set to impress.
For far-fetched fun and astronomical levels of culinary magic, we are thrilled to welcome back The Art of Dining for an immersive feast like no other.
Gather your friends, study the delicious menus, and book your seats at the table. Your Big Feastival meal planning starts here.
Big Love,
BF Team x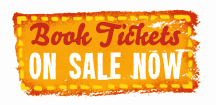 The Friday night Supper Club will be hosted by Gizzi Erskine who has rallied up her very talented mates to curate the menu inspired by Eastern coastal countries of the Mediterranean.
In a nod to the supporting charity Help Refugees, Gizzi has asked chefs to base menus using ingredients from the Greece, Syria, Turkey, Egypt and Libya. Head to our website to find out the exciting chef line-up and delicious menu for this year's feast.

Operation Red Rocket:  A Mission to Feast
The Art of Dining are renowned as one of the leading institutions in the field of pop-up restaurant experiences. Over the past couple of years they have taken us on some fantastical culinary adventures at The Big Feastival and this year, they are landing on the farm with a space-themed banquet like no other.
On a journey out of this world, diners are invited to step back into the past for a glimpse at an imagined tomorrow. Costumes optional (though actively encouraged), wild imaginations compulsory.