Our love for the feast is second to none, but alongside any epic feast goes a ruddy good tipple.
This week we thought we'd celebrate the stars of the bar who'll be keeping our glasses half full and thirsts suitably quenched.
With only 5 weeks to go, tickets are disappearing so please don't hang about. We'd hate for you to miss out…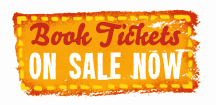 Veuve Clicquot
We are thrilled to welcome Veuve Clicquot as our official champagne partner this summer who'll be serving chilled glasses of champagne from their Veuve Clicquot Champagne Bar in the Main Arena. Don't miss their incredible virtual reality experience, "Virtually Clicquot", for the chance to hop on your bicycle and explore the beautiful Champagne wine region.
Enjoy a chilled Birra Moretti beer while looking over the action of the festival from their impressive double-decker bar. They'll be plenty going on including table football, Cacio Al Fuso (a Tuscan inspired game of cheese rolling!) and DJs playing great music late into the evening. Over at Trattoria Moretti, they will be serving up an authentic taste of Italy with a selection of food pairing experiences.
Brancott Estate will be giving you the chance to try before you buy in their exclusive wine bar and garden. Come and take a seat and enjoy a crisp glass of their Sauvignon Blanc whilst soaking up the rays. Why not plan ahead and pre-order your bottles here! PLUS every pre-order will receive a free picnic set of a blanket and 2 wine glasses, while stocks last.
Quickfire! Three brand new things you won't want to miss…
For every animation loving child (and parent!), the BFI workshop is a must-visit this August!
Eclectic poems, intoxicating prose and fabulous lyrics. Expect live performances and audience participation.
Hanky waving, stick slapping and accordion playing. A warm welcome to the Charlbury Finstock Morris dancers!
Spotlight on…
We seriously love this latest tune from Ella Eyre. Picture the sun setting on Saturday at The Big Feastival and this as your soundtrack…it surely doesn't get much better than that.
Shaken or stirred?
Calling all budding mixologists! Learn to muddle, shake and mix like a pro with our fantastic range of cocktail masterclasses.
From the creators of the London Cup, artisan gin distillers Sipsmith will take you on "a walk down gin lane" giving you a history of gin and tutored tasting on the hour every hour. Come and create the perfect blend and master you own signature gin and tonic.
Coupling up on their much loved Ultimate Gin & Tonic Container Bar, Fever-Tree returns with a brand new Espresso Tonic Tent. Working with coffee pioneers Volcano, they will bring some curious coffee cocktails to give you a kick. Join their team of experts to gain an insight into the integral role ingredient sourcing plays in both coffee and natural mixers…with samples along the way of course!
Sessions are first-come, first-served – sign up on the day to take part.
When it comes to mac n' cheese, Anna Mae's are a cut above the rest. If we had it our way we would eat their cheesey pasta for breakfast, lunch and dinner.
If you can't wait until The Big Feastival to satisfy your craving, they've been so good as to share their recipe for the incredible Don Macaroni. Any recipe which contains cheddar. Monterey Jack AND parmesan is surely a good one?!
Head to our website to find out exactly how to recreate this goodness in your own kitchen!