CAMDEN ROCKS ANNOUNCE THE CRIBS TO HEADLINE
FESTIVAL TO RETURN FOR THE 5th YEAR ON JUNE 4th 2016
Camden Rocks have announced their highly-anticipated headline act for the2016 all-dayer, the UK's most vital indie-punk trio, The Cribs. Set to close the festival on Saturday June 4th at the Electric Ballroom, this is the band's first London show since their earth-shattering performance at a sold out Camden Roundhouse last year, following their seminal 2015 album, For All My Sisters.
Back for its fifth year to host over two-hundred high-energy bands across multiple venues up and down the hallowed streets of Camden Town, the festival has already confirmed some massive names in rock, indie and metal, including Carl Barat & The Jackals, Glen Matlock (Sex Pistols), Billy Bragg, SikTH, Johnny Foreigner, Sonic Boom Six and many more, with even more big names still to be announced!
Further bands confirmed to join the line-up alongside The Cribs today also include: The Ramona Flowers, Flight Brigade, Colt 45, Death Koolaid, TheCrooked Kings, Jolanga, Meredith Baker and Sarah de Warren.
Bands already confirmed to play include: Carl Barat & The Jackals, Glen Matlock, Young Guns, We Are The Ocean, InMe, Ginger Wildheart, Billy Bragg, Johnny Foreigner, Norma Jean, Evil Scarecrow, New Years Day, SikTh, Creeper, Penetration, Sonic Boom Six, The Godfathers, The Virginmarys, TheQemists, Warrior Soul, Jim Jones And The Righteous Mind, Queen Kwong, YASHIN, Gun, Zoax, The Hell, Youth Club, VUKOVI, Goldray, Reigning Days, Wearing Scars, AvaGrace, Francobollo, The Hyena Kill, The Pearl Harts, Anita Chellamah Band (The Cherry Bombz ), JPNSGRLS, Faers, S.E.X, Staring OutThe Sun, The St Pierre Snake Invasion, Symmetry, Sky Valley Mistress, Grumble Bee, JOANovARC, Blurred Vision, Desperate Measures, The Fallen State, Duchess, Shea, Alive With Eyes, Forever Never, As Lions, CC Smugglers, Tellison, The Men That Will Not Be Blamed For Nothing, The Dirty Youth, Shvpes, Black Foxxes, Freeze The Atlantic, Asylums,The Main Grains, Lounge Kittens, The Carnabys, Press To Meco, Continents, Shields, Fathoms, Blood Youth, Scholars, Ashestoangels, Dorje, Cold In Berlin, Samoans, Bare Knuckle Parade, Nibbinz, The Dirty Thrills, Create To Inspire, Witterquick, The Tuts, Lock, Moses, Counting Days, The Ghost Riders In TheSky, Roxanne De Bastion, The Derellas, Black Casino & The Ghost, The RPMs, Hands Off Gretel, Bad Sign, Thunder On The Left, Role Models, Mercutio, Critics, Chinese Missy, False-Heads, The King's Parade, Louise Distras, Leisure Tank, Suzie Stapleton, Hoodoo Daze, Falling Knives, Emily Lee and Matty James.
£35 tickets are now available from the link below subject to booking / transaction fees. Every year prior has sold-out and 2016 looks set to be no different!
www.camdenrocksfestival.com
Over 200 bands for £35 playing in over twenty different venues.
Venues include:
ELECTRIC BALLROOM *UNDERWORLD * PROUD * BARFLY * BARFLY DOWNSTAIRS * DINGWALLS * BLACK HEART * HAWLEY ARMS * MONARCH * THE GOOD MIXER * THE CUBAN * BREW-DOG * DINGWALLS CANALSIDE  * THE FORGE * THE CROWNDALE * DUBLIN CASTLE *BLOC BAR * CAMDEN CAVERN @ BELUSHIS * FIFTY FIVE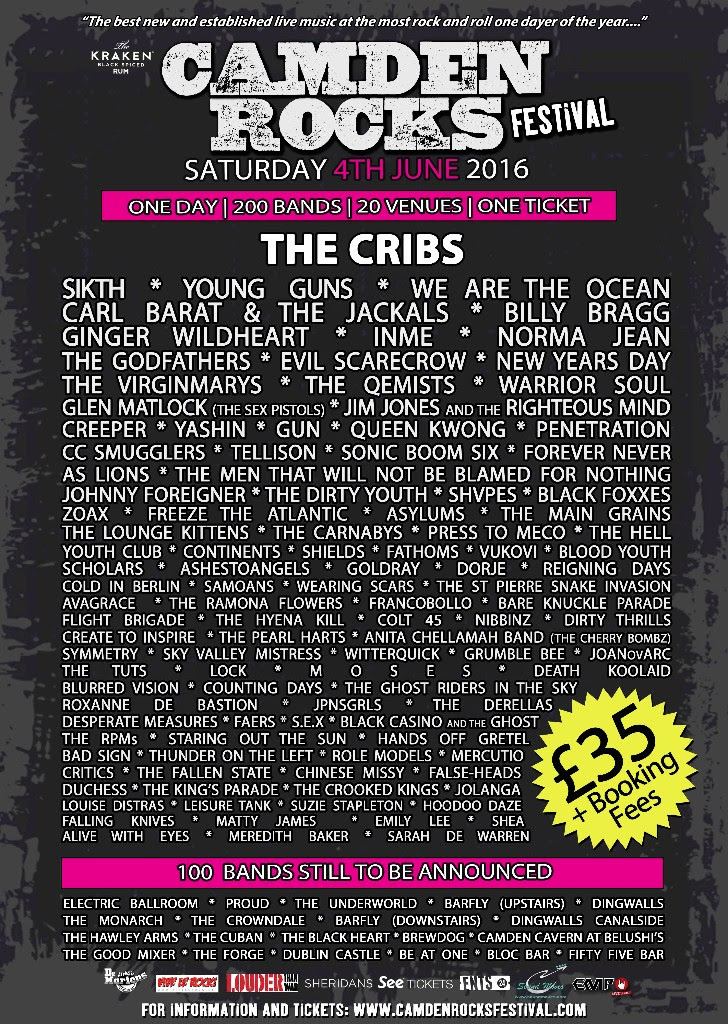 More information on the links below.
http://www.camdenrocksfestival.com
http://www.facebook.com/CamdenRocksFestival
https://twitter.com/CamdenRocksFest
#CamdenRocks