EL VY photographed by Deirdre O'Callaghan
EL VY Launch New Video For
EUROPEAN TOUR BEGINS DECEMBER 1
DEBUT ALBUM RETURN TO THE MOON OUT NOW
"Absorbing…timeless, reflective but with its feet firmly in the now." Loud And Quiet (9/10)
"The songs here simply simmer and sparkle." Rolling Stone
"Enthralling." NME ****
Q **** | The Independent on Sunday **** | Metro **** | DIY ****
Today, EL VY release a new video for 'No Time To Crank The Sun', keeping their promise to create a video for every track on their debut album, Return To The Moon. Directed by Tom Berninger (Matt's sibling, director of the award-winning Mistaken For Strangers film and creator of all preceding EL VY videos thus far), the video pieces together behind-the-scenes footage of Matt Berningerand Brent Knopf.
'No Time To Crank The Sun'
Directed by Tom Berninger
In other EL VY news, Matt and Brent grace the cover of the Nov/Dec issue ofUnder The Radar magazine and recently recorded a session for KEXP (in custom-made studio décor-matching outfits). Watch the 4-song set below.
EL VY – Live at KEXP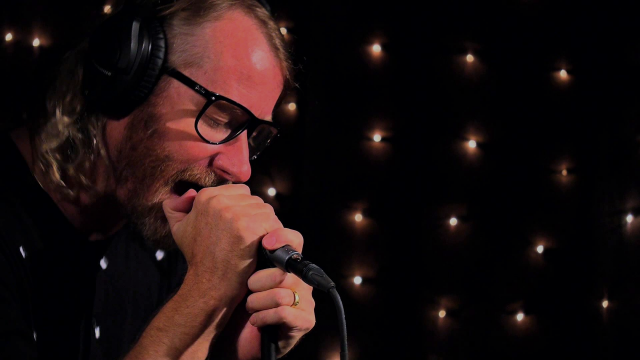 EL VY (rhymes with 'hell pie', like a plural of Elvis) and Return To The Moon is a project Berninger and Knopf have been thinking about for years. Their friendship spans nearly a decade, starting back when the National and Brent's previous band Menomena played small half-empty clubs along America's west coast. Feeling an immediate kinship, the pair kept in touch, Brent sending Matt occasional rough sketches of music and Matt responding with melodies and lyrics. Finally, in the winter and spring of 2014-15, they actually got together to make an album.
Having wowed sold-out audiences in north America, EL VY will head across the Atlantic next week for their maiden European tour. Matt and Brent will be joined on stage by drummer Andy Stack (Wye Oak) and Matt Sheehy (Lost Lander) on bass. Support comes from The Penny Serfs and Small Feet (London only).
December
01 – COPENHAGEN, Pumpehuset π SOLD OUT
02 – HAMBURG, Grunspan π
03 – AMSTERDAM, Melkweg π SOLD OUT
04 – COLOGNE, Kantine π
06 – BERLIN, Astra Kulturhaus π
07 – BRUSSELS, AB π SOLD OUT
08 – PARIS, Le Trabendo π
09 – LONDON, Electric Ballroom π @ SOLD OUT
10 – LONDON, Electric Ballroom π @ SOLD OUT
12 – MANCHESTER, Gorilla π SOLD OUT
13 – DUBLIN, Vicar Street π SOLD OUT
π w/ The Penny Serfs
@ w/ Small Feet