The Fleshtones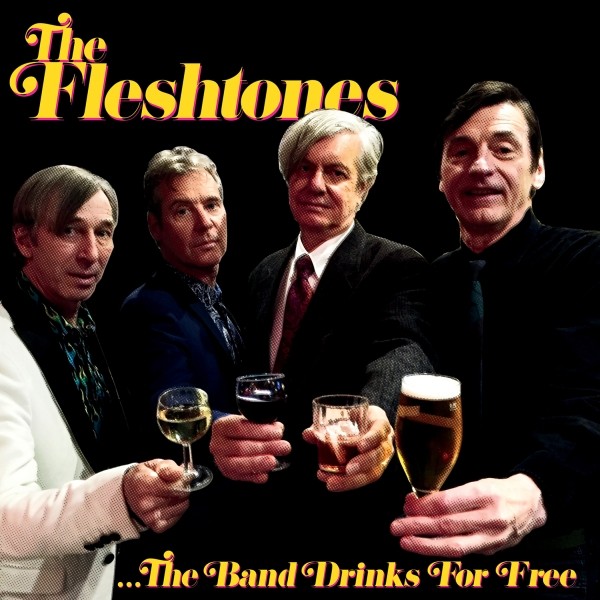 Making their fourth appearance on July 8th at London's famous Dirty Water Club, The Fleshtones reconvene our weekly back catalogue with a spotlight on the special tribute album "Vindicated".
Forty years ago in Queens, New York, Keith Streng and his buddy Marek Pakulski discovered some guitars in a basement of a house they were renting. They didn't know how to tune strings or finger a chord, but they dug Rock & Roll and R&B, which was hard to find in the mid-1970s pabulum on Top 40 and FM radio. They picked up those guitars, found some cheap amps, and started banging out noise. By '77, local drummer Lenny Calderon was on board as the steady drummer.
One day Peter Zaremba, an art student friend with long bangs, a harmonica, and a manic vision, dropped by the house, grabbed a mic, and named the band THE FLESHTONES. They rehearsed by throwing locally legendary parties in the basement of that house, dosed with fuzz guitar and trash cans full of their signature cocktail, the Blue Whale, inaugurating a bacchanal that continues to this day. Manically covering obscure songs and offering their own nervy originals, they debuted at CBGB in May of 1976.
Zaremba remembers, "We were very wound up and blasted out our handful of songs at a ridiculously fast tempo. Still, people liked us and some even danced along, an unusual event at super-cool CBGB's. We were invited back for another audition. Finally, we were a real band." Laughs Streng, "We were horrible at CBGB! But we still passed. Hilly Kristal said to us, 'You guys aren't really that good. But there's something there'."
In the late 1970s, The Fleshtones earned a local following and played often in Manhattan at CBGB and Max's Kansas City. Later, they found a favorite venue at Club 57 on St. Mark's Place. The Fleshtones were the first band to be booked or to play at several famous venues, including Irving Plaza and Danceteria in Manhattan, Maxwell's in Hoboken, New Jersey, and the original 9:30 Club in Washington D.C..
The Fleshtones shared a rehearsal space with The Cramps on the Bowery in 1977. The following year, The Fleshtones signed with Marty Thau's Red Star Records (the label's roster included Suicide and Boston's The Real Kids, among others artists), and recorded their first album. In addition, filmmaker/artist M. Henry Jones and the band produced Soul City, a performance-animation video composed of hand-painted cutouts that is a historic representation of the band and Jones' art form. The Fleshtones' first single, "American Beat" was issued on Red Star in 1979.
Zaremba was the host on MTV of I.R.S. Records Presents The Cutting Edge from 1984 to 1987. The I.R.S. Records-produced show featured up and coming underground artists. The program was short-lived (airing in a late night time slot didn't help accumulate a wide audience) but the format prefigured 120 Minutes. Zaremba's MC talents surfaced again in the late 1990s at New York City's "Cavestomp" Garage Rock festivals.
Following Pakulski's departure in 1986, the band entertained a few bass players, including Robert Warren (RuPaul's bassist in Wee Wee Pole), Andy Shernoff (The Dictators), and Fred Smith (Television). In 1990, Ken Fox, late from Jason and The Scorchers and still known as "our new bass player", joined the goofy mayhem for good, contributing pop songs, high leg kicks, and charm at the merch table, battening down the hatches on a muscular, road-strengthened, party-hopping outfit who play with the same energy, abandon, and spontaneity in front of ten people as they do in front of hundreds.
The Fleshtones are the only band to debut at CBGB in 1976 that hasn't experienced an inactive year. They have, in one way or another, inspired countless other bands over the decades, including R.E.M., Hoodoo Gurus, and The Dream Syndicate, and their showmanship and musical influence is palpable in many current bands throughout North America, Europe, and Scandinavia. The Fleshtones have survived Punk Rock, New Wave, No Wave, Neo Garage, Post-Punk, Grunge, and more Neo Garage, never succumbing to trendiness, scornful laughter, liquidated record labels, or non-alcoholic beer.
They were the first band to play at Irving Plaza and Danceteria in Manhattan as well as Maxwell's in Hoboken, New Jersey, and the first to be booked at the original 9:30 Club in Washington D.C.. They were one of the last bands to play Windows On The World on top of the World Trade Center. In between, they opened for James Brown and Chuck Berry, backed acclaimed English actor Ian McKellen as he recited a sonnet on Andy Warhol's Fifteen Minutes, and anchored the infamous Pyramid Club in the East Village while helping inaugurate the legendary Wigstock drag queen festival.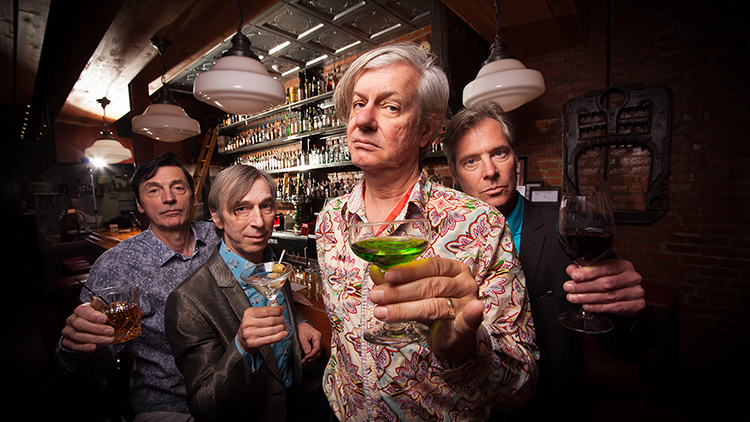 Tick, tock there's another day. What to do? What to say? Tried and true American Living Legends, the Fleshtones return with their new album," The Band Drinks For Free." Hell, they've earned it! To celebrate their fortieth anniversary, the gravity-defying Fleshtones take stock of their remarkable career, singing about the past and the future, knocked-out at how far the decades have receded yet excited for their fourth Dirty Water Club appearance.
A decade ago to celebrate the band's thirtieth anniversary, Dirty Water Records and France's Larsen released "Vindicated! A Fleshtones Tribute" where bands/fans from around the world perform songs from the honoured band's beginnings to their recent albums. Some you know and others you may not, but all of them do justice to what is easily the best and hardest working live band ever – bar none.
From Spain's Los Chicos kicking things off with a spirited and faithful version of "Living Legends" through Handsome Dick Manitoba of the Dictators leading Sweden's Nomads authoritatively through a rousing and rocking "American Beat '07″, this tribute is a validation of their enduring, inclusive appeal.
Between Manitoba and the Chicos? Australia's Hoodoo Gurus, Spain's Dr. Explosion, Sweden's Maggots & Turpentines, Scotland's Primevals, Italy's Psychotones, France's Slow Slushy Boys, Tony Truant & Playboys, England's Richard Mazda, and from the US the Insomniacs, Subway Surfers HateBombs, Swinging Neckbreakers, Woggles, Slickee Boys, Immortal Poirposes, Havox, Four Shames, Hans Frank, and the multinational Snax featuring Halloween Jack…plus there may or may not be a secret bonus live track recorded by some band at some club.
Order "Vindicated! A Fleshtones Tribute" on LP/CD/Digital now!
The Fleshtones return to the Dirty Water Club with amazing support from, Sir Bald's Ripcurls, Embrooks, and the Kurt Baker Combo
Order "Vindicated! A Fleshtones Tribute"
Dirty Water Records Television