Navigator Records are re-issuing former Bellowhead front man Jon Boden's debut solo album, 'Painted Lady', at the end of September to celebrate the 10th anniversary of its initial release. Though most well-known for his Bellowhead role, he's written a lot for TV and film, appeared on Mercury Prize nominated albums, and played on almost every major stage around the UK.
Jon Boden's debut solo album Painted Lady to be re-issued with bonus tracks to mark 10 year anniversary of its release
Out Sept 30th on Navigator Records
First major solo UK tour in November
Watch Jon Boden talk about going solo
On September 30th 2016, Navigator Records will re-issue Jon Boden's debut solo album, Painted Lady (originally released on Soundpost Records in May 2006) – to mark its 10th anniversary.  The album will be available as a CD, 180gm vinyl and download and features previously unavailable bonus tracks. Those pre-ordering from Propermusic.com will also receive a limited edition signed A5 artcard (whilst stocks last) and an mp3 of a previously unreleased track.
Chicago born, Winchester raised and now residing in rural South Yorkshire, Boden is not only a leading performer of his generation of folk artists but also one whose repertoire extends far beyond the boundaries of a single genre. For over a decade, Jon was in a highly acclaimed traditional folk music duo with melodeon player John Spiers. Together they toured and recorded with Eliza Carthy, appearing on her Mercury Prize nominated album. In 2009 Boden formed The Remnant Kings with whom he recorded his second album, 'Songs from the Floodplain', painting a compelling, post-apocalyptic world.
Jon is still best known as lead singer (and principle arranger) of the multi-award winning big band Bellowhead. During the band's 12 years they achieved an unrivalled level of critical and commercial success, playing on virtually every major stage around the UK. Jon decided to stand down in 2015 and on 1st May 2016 Bellowhead played their final gig.
See a live session video
The common theme throughout Jon's folk music is his commitment to social (communal) singing. He's actively promoted it in a variety of ways, most notably in 2010, when for one year, he undertook an ambitious project called A Folk Song A Day, releasing an online song every day.
Outside of the world of traditional folk, Boden has composed music for both theatre and film, most notably two Royal Shakespeare productions at Stratford: Merchant of Venice (2008) and A Winter's Tale (2012). In 2013 he was commissioned to compose a version of Little Musgrave to be performed alongside Benjamin Britten's work of the same name at Aldeburgh. In addition he performed the Juliet Letters with the Sacconi Quartet at the Bristol Old Vic. He also appears in Richard Curtis's film About Time and contributed music to the score. Autumn 2013 also saw the debut of a new BBC2 comedy series Count Arthur Strong for which Jon composed and performed the signature music.
(Almost) entirely self-penned, Jon Boden's first solo album, 'Painted Lady' was produced by Jon in collaboration with Ben Ivitsky and is a work of considerable ambition and originality. The album features 12 songs written by Boden and is especially notable for its dazzling array of instrumentation, including fiddle, octave fiddle, concertina, banjo, guitars, double bass, Indian harmonium, glockenspiel, electric piano, and perhaps more unusually for a folk artist, Moog synthesizer and drum machine – all of which are played by Jon Boden.
'Painted Lady' will surprise those expecting a version of Bellowhead's full-on, euphoric energy, as here Boden also displays a soulful, moving and at times, understated sound, romantic without being at all 'folksy'. There's even Jon's low-fi interpretation of a Whitney Houston classic, 'I Wanna Dance (with Somebody)'. Filled with metaphoric landscapes of cigarettes and broken hearts, 'Painted Lady' skilfully explores the themes of doomed love, fusing acoustic sensibilities with raw, driving electric guitar and just a touch of electronic.
Jon Boden will be appearing at Cambridge Folk Festival (28th July), Snape Proms (1st Aug) and Sidmouth FolkWeek (4th Aug) to be followed in November by his first major solo tour.
'Painted Lady' – CD + vinyl album tracklisting
1. Get A Little Something
2. Blue Dress
3. Josephine
4. Pocketful Of Mud
5. Drunken Princess
6. Lemany
7. Win Some Lose Some Sally
8. True Love
9. Ophelia
10. Broken Things
11. Painted Lady
12. Drinking The Night Away
Bonus tracks
13. All Hang Down
14. Old Brown's Daughter
15. I Want To Dance With Somebody * – Whitney Houston cover
CD
Propermusic: http://smarturl.it/rnb8ka
Amazon: http://smarturl.it/axrzhq
Vinyl
Propermusic: http://smarturl.it/952gun
Amazon: http://smarturl.it/hhg7in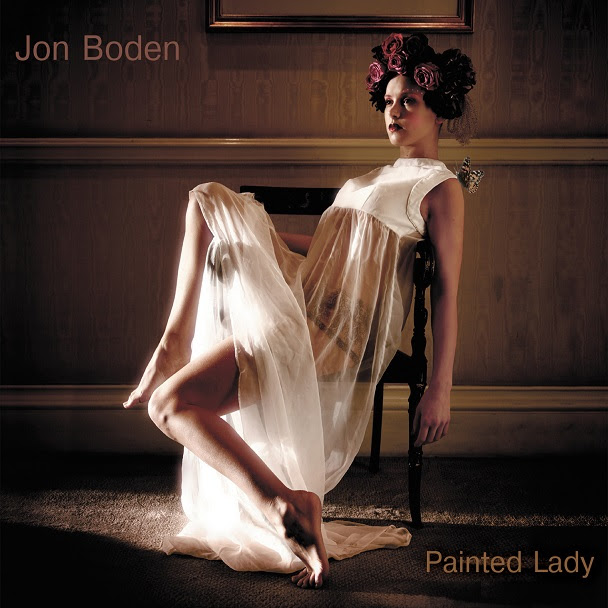 JON BODEN – November 2016 Tour
Mon 7 The Octagon Theatre, Yeovil 01935 422 884 / octagon-theatre.co.uk
Tues 8 Wedgewood Rooms, Portsmouth / wedgewood-rooms.co.uk
Wed 9 The Stables, Milton Keynes 01908 280 800 / stables.org
Thurs 10 O2 Academy, Oxford 0871 2200 260 / www.seetickets.com
Fri 11 Union Chapel, London 0871 2200 260 / www.seetickets.com
Sat 12 Revelation St. Mary's Church, Ashford / revelationstmarys.co.uk
Sun 13 Colston Hall, Bristol 0844 887 1500 / colstonhall.org
Mon 14 The Met, Bury, Greater Manchester 0161 761 2216 / themet.biz
Tues 15 The Brewery Arts Centre, Kendal / breweryarts.co.uk
Weds 16 Gala Theatre, Durham 03000 266 600 / galadurham.co.uk
Thurs 17 Theatre Severn, Shrewsbury 01743 281 281 / theatresevern.co.uk
Fri 18 Victoria Hall, Saltaire, W. Yorks 01274 588 614 / saltairelive.co.uk
Sat 19 South Holland Centre, Spalding / southhollandcentre.co.uk
Sun 20 The Apex, Bury St Edmunds 01284 758 000 / theapex.co.uk