Hop Along NPR 'Tiny Desk Concert' Out Today!
Playing Select Summer Dates, More TBA!
7/25: Philadelphia, PA @ XPoNential Music Festival
8/23: Los Angeles, CA @ FYF Fest
9/18-9/20: Toronto, ON @ Toronto Urban Roots Festival
Painted Shut Named "Best of 2015" (so far) by
Rolling Stone and Stereogum, Available Now
"Hop Along know how to make these tiny moments feel huge." – Rolling Stone, 4-stars
"Hop Along spins anger into indie-rock gold" – PAPER
" …a sound that filtered Quinlan's storytelling through the rough, emotionally unguarded approach of bands like Rilo Kiley or Bright Eyes—bands who turned diary entries into anthems and vulnerability into a shuddering kind of power."  – Pitchfork
" …the tones here are bright and pristine—but the subject matter is far from it." – FADER
"Painted Shut is less a vast departure from what Hop Along have created previously than a confident leap forward, in terms of musicianship, storytelling, and studio mastery." – Village Voice
"Painted Shut is a prickly, unfettered masterpiece."  – Stereogum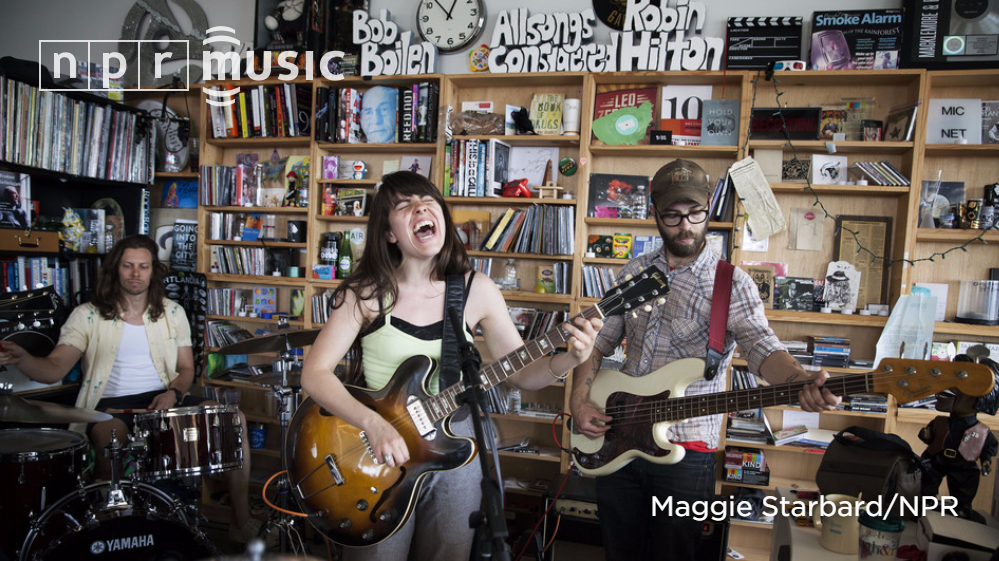 Click Image Above to Watch and Share
Revered for their captivating live show, Philadelphia's Hop Along are thrilled to share their NPR Tiny Desk Concert, out today! The video follows the release of the band's critically acclaimed album Painted Shut out May 5 on Saddle Creek. The album debuted at #7 on Alternative New Artist Albums and #10 on Top New Artist Album Chart.  Hop Along just wrapped up an extensive U.S. headlining tour in support of the new record and is set for a number of festivals this summer with additional dates to follow.
Painted Shut is available at the Saddle Creek Online Store, iTunes, Amazon and independent record stores everywhere. Captivating stories of desperation and weary awakening and fuzzed out grunge guitar riffs are playfully stitched together by charismatic frontwoman Frances Quinlan. Recorded and mixed by John Agnello (Kurt Vile, Dinosaur Jr, Sonic Youth) in Philadelphia and Brooklyn, Frances is joined by Mark Quinlan (drums), Tyler Long(bass) and Joe Reinhart (guitar) on Painted Shut. Revered for their electrifying live show, be sure to stay tuned as additional dates are announced!