LOST 80's LIVE
First 8 Shows Announced of 30 City Tour
It's Lost 80's Live! Dig out your Leg warmers, Breakout your Day-Glo socks, Master that Rubiks cube! It's a totally awesome flashback epic concert featuring A Flock of Seagulls, Wang Chung, Animotion, Naked Eyes, Farrington and Mann the Original "When In Rome UK" and more.
"Lost 80s Live rocks!! Rob and his team are the best and production always runs smoothly. Rob is so knowledgeable about the 80s and this genre and is there every step of the way from creating radio spots to artwork to helping us make a fair shake on the meet and greets."
– Jim Hanzalik, WorldOne Presents
"Rob has delivered a great line up for us for the third year in a row. He is completely Lost in the 80's himself, which makes him good at what he does. These shows have been some of the most fun and energetic shows of the season. Humphreys By the Bay in San Diego is looking forward to another great show this year and many more to come!"
– Lea Swanson, Goldenvoice, San Diego
"Lost 80s Live is an amazing show. We successfully produced the event with our partners, JACK FM. We can't wait to bring it back year after year."
– Allen Anders, AEG
AVAILABLE FOR ROUTED DATES
Current announced itinerary below:
Fri, Aug 3, 2018 – Brooklyn, NY – Ford Amphitheatre at Coney Island Boardwalk
Sat, Aug 4, 2018 – Brookville, NY – Tilles Center for the Performing Arts LIU Post
Sun, Aug 12, 2018 – Englewood, CO – Fiddler's Green Amphitheatre
Fri, Aug 24, 2018 – Grand Prairie, TX – Verizon Theatre
Fri, Aug 31, 2018 – San Diego, CA – Humphreys Concerts by the Bay
Sat, Sep 1, 2018 – Saratoga, CA – The Mountain Winery
Sun, Sep 2, 2018 – Lincoln, CA – Thunder Valley Casino Resort
Thu, Sep 6, 2018 – Pomona, CA – LA County Fair
*Lost 80's Live! tour will include a rotating lineup of stars.
Artists vary by market.  For more information on the confirmed dates above, click here.
The Hit List
A Flock Of Seagulls – I Ran
Wang Chung – Everybody Have Fun Tonight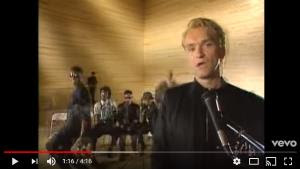 When In Rome – The Promise
Animotion – Obsession
Naked Eyes – Always Something There To Remind Me