TOO MANY T'S
"BRITAIN'S ANSWER TO THE BEASTIE BOYS"
RELEASE DEBUT SINGLE 'DIAMONDS/GOLD'
+ LIVE SHOWS ANNOUNCE
What started out as holiday trip to Marrakesh in 2011, has seen two friends start a crazy journey into the hip-hop world which even they didn't see coming.
Meet Too Many T's; a south London rap duo who have not stopped for a second since forming after that excursion five years ago. Today, they are delighted to unveil their debut single 'DIAMONDS/GOLD'.
After quitting their office jobs and touring open-mic nights to gain a following, Too Many T's were quickly given a stage by Rob da Bank (of Bestival and BBC fame) and before long, they were touring UK/Europe and being repeatedly labeled as 'Britain's answer to the Beastie Boys'.
Listen to DIAMONDS/GOLD
Fast forward five years and the T's have opened and played alongside their very own inspirations: Big Daddy Kane, People Under The Stairs, Wu Tang Clan, De La Soul,Ugly Duckling, Asher Roth, Snoop Dogg, Grandmaster Flash, The Pharcyde and the iconic Public Enemy; a comprehensive list of who's who in hip-hop.
The T's are currently getting ready to release their highly anticipated debut studio album, produced by rising star Odjbox and world-renowned bass maker Josh Steele aka Flux Pavilion. Both producers have huge followings and respect in the electronic and bass music worlds but on this album have shown their talents as out-and-out hip-hop producers; a story in itself.
The debut single from the forthcoming album, 'DIAMONDS/GOLD' is a solid hip-hop headbanger you'll want to keep on repeat – it demonstrates all the energy and charisma fans have come to expect from the T's.  The propulsive beat was created with the assistance of collaborator Odjbox and was evidence enough from the off that he was the producer for them.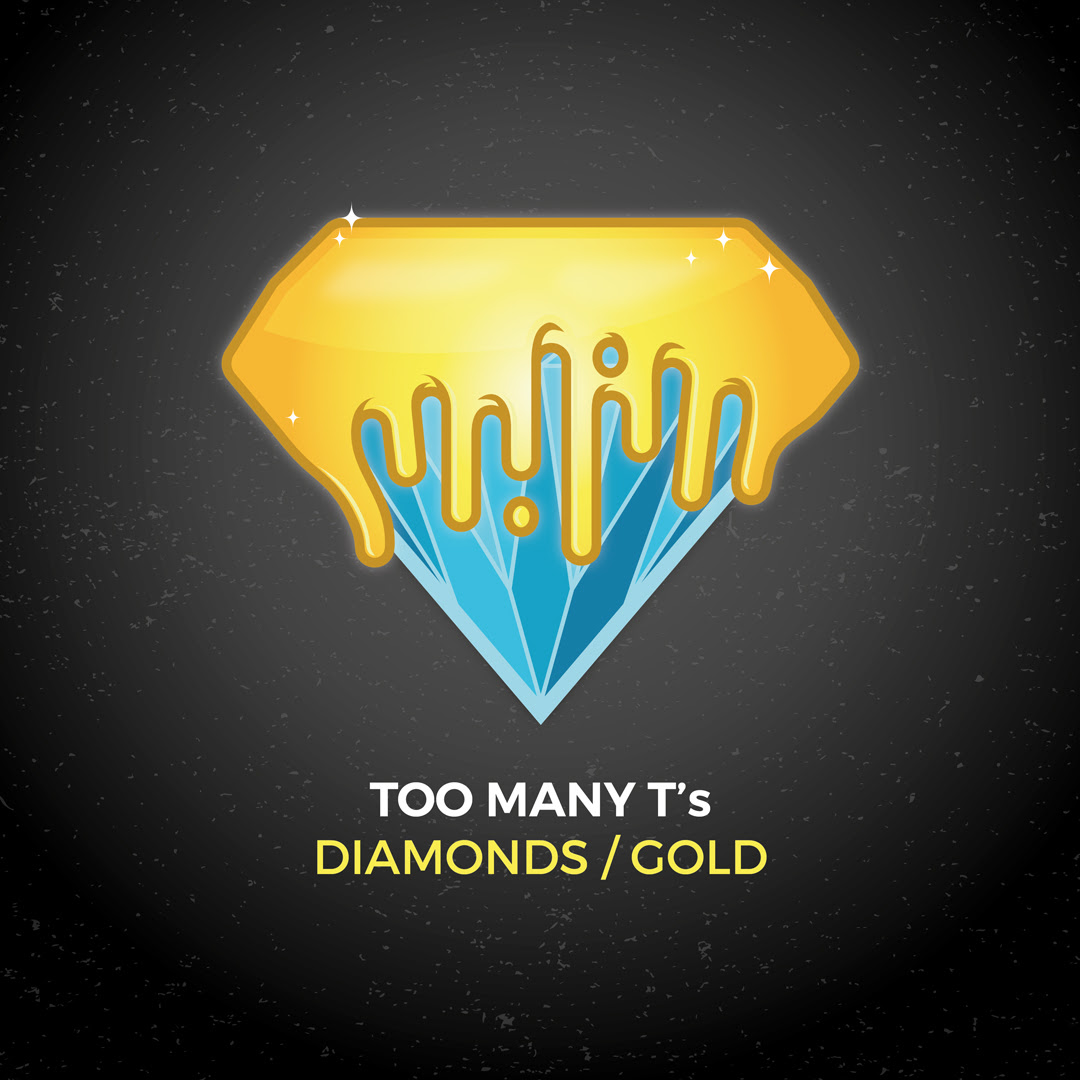 The track was composed when the duo took a trip to a resort near Benidorm in Spain for some sun and songwriting in January 2016; an experience that proved to be productive, but perhaps less exotic than it sounds:
"We went on some £10 flights and stocked up at the local supermarket for a four day writing binge. The heating broke and we were wearing all the clothes brought, all the time. We both got ill and it was 5 degrees in the house. Really ill, but lit a fire and got jamming." remember Ross and Leon.
Channeling the frostiness of their surroundings into the ice cold attitude that defines the first song to emerge from those sessions, 'Diamonds/Gold' sees the pair spearhead the self-aggrandising social media postings of certain players in the hiphop and rap spheres:
"The hook / concept came about from all the whack ass instagram rappers just chatting about what they have, rather than making any decent music. The verses are a piss-take, character-based representation of what some of these rappers might chat about. But rapped in our own styles. Which is better!"
DIAMONDS/GOLD WILL BE RELEASED ON XTRA MILE RECORDINGS

– 29 JULY 2016
Don't miss Too Many T's at the following live shows this summer:
29/07 Kendal Calling, Kendal – Main stage
29/07 Kendal Calling, Kendal – Tim Peaks (Acoustic Set)
30/07 Transissions Festival, nr. Thorpe Park
31/07 Standon Calling, Hertfordshire – second stage
11/08 Backyard Cinema, Camden – Beastie Boys Live in NYC Screening
20/08 Beautiful Days, Devon – second stage
03/09 MSF Festival, Godalming
04/09 Wilkstock, Hertfordshire – main stage
10/09 Bestival, Isle of Wight – Invaders of the Future Stage
For More Information:
www.soundcloud.com/too-many-ts