25th Cutting Edge CE Conferences and Events
2017 Lifetime Achievement Award
MARK SAMUELS
President & Owner, Basin Street Records
Award Presentation: Thursday, August 24
7:30 PM
The Ramp Room – Little Gem Saloon
445 S Rampart St
Cutting Edge CE Event Updates: NOLA Downtown Music and Arts Festival – Speakers – "Music in Movies" Film Series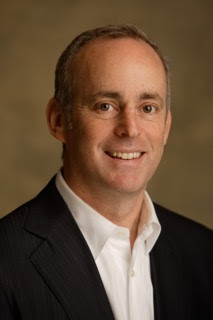 New Orleans: Cutting Edge CE Conferences and Events is pleased to announce Mark Samuels, President, CEO of Basin Street Records as its 2017 Lifetime Achievement Award recipient. The night will include the Cutting Edge's NOLA Downtown Music and Arts Festival artists showcase presentation of important and emerging artists. Doors open at 5:30 PM.
Mark started Basin Street Records in September 1997 as a hobby while working in the energy industry. Artists on the label include Kermit Ruffins, Rebirth Brass Band, Jeremy Davenport, Irvin Mayfield, Los Hombres Calientes, Jon Cleary, Henry Butler, Jason Marsalis, Dr. Michael White, Theresa Andersson, The Headhunters and Davell Crawford.
In 2012 Rebirth Brass Band's Rebirth of New Orleans CD won a Grammy.  The label has received two Grammy nominations, a Billboard Latin Music Award (a finalist 4 times), Downbeat Critic's Poll awards, numerous Big Easy Entertainment Awards, a multitude of offBEAT Best of the Beat Awards and many other accolades.
Basin Street Records has been named the Best Record Label 10 times at the OffBEAT Best of the Beat awards and has been named the Music Business of the Year three times.
Mark has been named to New Orleans CitiBusiness' Power Generation, to Gambit Weekly's 40 Under 40, and to offBEAT Magazines' 20 Most Influential People in the Louisiana Music Industry.  He was also Kingfish Magazine's Kingfish of the Month.  He was also featured in the Idea Village Press' book How They Did It: Profiles of New Orleans Entrepreneurs by Sally Forman and Margaret Beer.
Mark received a BBA and MBA from the University of Texas at Austin and early in his career worked for the New Orleans' World's Fair, for Andersen Consulting (now Accenture), and for the SulfaTreat Company (purifying natural gas around the world).   Mark was also an adjunct professor for a semester at Loyola University's Music Industry Studies program and has been a guest lecturer at both Tulane and UNO.
In his "spare" time he and his entrepreneur/trial attorney wife, Kara Samuels, take care of the youngest of four children (ranging in age from 27 to 7), and he serves actively on the board of the Louis Armstrong Jazz Camp. He was a long time member of the board of Louisiana Appleseed (2007-2016). He also served as a mentor for the Loyola University business school freshmen for 5 years.
Cutting Edge's NOLA Downtown Music and Arts Festival will present important and emerging artists in various performing formats over four days in venues in and near New Orleans' Downtown. The NOLA Downtown Music and Arts Festival is a showcase performance opportunity event featuring artists selected because they personify what the music and entertainment industry values, stage presents, songwriting and musicianship. These artists are ready for new and renewed attention. In a city where music is a cultural asset, not an entertainment byline, we honor the past by presenting artists in an atmosphere where their artistry is more important than beer sales.
130+ artists/groups will be presented during the 25th Cutting Edge CE Conferences and Events.
The NOLA Downtown Music and Arts will be headquartered on the Central City BBQ festival grounds where two stages will present music and films.
The Central City BBQ activities will start, Friday, August 25 with Cutting Edge's, "Music in Films," film series screening of music documentary films. Artists from across the U.S. we perform lead by New Orleans artists Charlie Wooton, The GrayHawk Band, The Sheik with Resurrection, with a special nolaAmericana Tribute by Lynn Drury and her nolaAmericana band.
The festival event will conclude, Saturday, August 26, with the New Orleans Saint's game day tailgating at the Central City BBQ and the Chitlin' Circuit Revisited Jam on the main stage lead by artists, Little Freddie King, Henry Turner, Jr., Kenny Neal, they will be joined by local and visiting artists celebrating the many great artists who participated in Chitlin' Circuit Jam Sessions throughout the years. Artists are invited to join in the jam.
Central City BBQ has quickly become a popular festival ground where local festival events can take place-walking distance from Downtown hotels.
Interested in being a vendor email us here
UPDATE: Approved for 17.5 hours of Mandatory Continuing Legal Education (MCLE) credits, including 1 hr of Ethics, 1 hr of Professionalism and 1 hr of Legal Practice by the Louisiana Supreme Court MCLE Committee.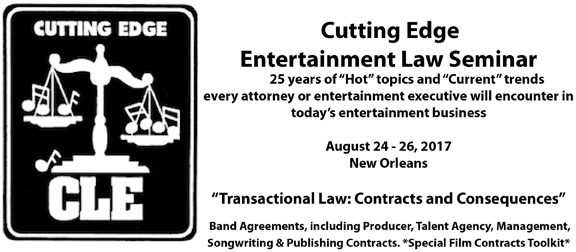 Sponsored CLE Events:
Washington Report: Inside the Beltway Update – Sponsored by Mitchell Silberberg & Knupp LLP
Tribute to Vernon P. Thomas, Esq. (1953 – 2016), Cutting Edge CE Co-Founder, CLE Coordinator – Sponsored by the Arts, Entertainment and Sports Law Section of the Louisiana State Bar Association – Metro Service Group – New Orleans Agenda
Coming Soon…
Business Sessions · Educators Forum · Film and Interactive (Music Innovation Hackathon) · Roots Music Gathering
2017 Showcase Artists Schedule
The 25th installment of the Cutting Edge CE Conference is getting  "back to its roots." Cutting Edge will reaffirm its commitment to enhancing the careers of artist and entertainment professionals, emphasizing the importance of establishing the right team of lawyers, managers, talent developers, producers and PR specialists.  Professionals who can help an artist navigate and negotiate the complicated tasks of signing contracts, developing an artist's performance and stage presence, working with producers and engineers, preparing and launching tours; and working with publicists and branding experts to present a saleable public image.
Cutting Edge is an intimate portrayal of the music and entertainment business, it tells a story of what you have to know and whom you should know. Both speakers and presenting artists portray important parts of music and entertainment world. Our goal is to achieve the right mixture of speakers with the expertise, professionalism and generosity to share their insights and perhaps finding business reasons to include an attendee in their business network. Cutting Edge provides attendees increase knowledge of the music and entertainment business and an opportunity expand their network of business contacts.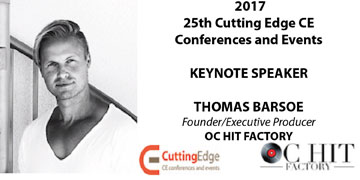 2017 speakers (partial list see entire list HERE)
ADDED SPEAKERS
Speakers
Affiliations
Martin Atkins
Musician, Record label owner, Author, "Welcome to the Music Business: You're F**ked!"
Jack Miele
Grammy, Emmy, Bronze Telly and two time Silver Tell winning audio engineer, producer, composer and multi-instrumentalist.
Amin Simms
SXSW, Director of Registration & Credentials
Jojo Walker
30 year media veteran whose career has included radio station management, Ad agency and production company
Libby Carlson
Music Producer, mcgarrybowen, produces original music and sources music for clients, including Marriott, Oscar Mayer, Western Union and Brita
Jen Schwartz
Director of Creative Music Integration, MTV Networks.
Jimmy Anselmo
Legendary club owner, "Jimmy's" music club
John Autin
President/CEO Rabadash Entertainment
Paul Diaz
Owner Tree Sound Studio
Charlie Wooton
Music, Songwriter, Producer
Michael Paoletta
Executive Producer, A&R + Supervision/Licensing, Comma Music
Norm Winer
Co-Founder & Chief Content Curator of the Fort Knox Network, Chicago
Lyle E. WhoDat Henderson
Artist, Radio Personality
Rob Tovar
Director of the Hanger, Fort Knox's creative film stage
Scott Fetters
Director, 2112 Music, Tech, Film Incubator
Jared Zeiler
Producer of "Bayou Boogaloo"
Reggie Lewis
Event Producer, Promotions
Henry Turner, Jr
Musician, Event Producer, Owner, Hit City Digital Records
They will be joining
Speakers
Affiliations
Thomas Barsoe
Keynote Speaker, Platinum selling, international recording artist, owner of OC Hit Factory, a Sony Music Group record company, specializing in production and artist management
Linda Septien
Talent developer of stars , Septien Entertainment Group (i.e., Selena Gomez, Demi Lavato, Jessica Simson, Kacey Musgraves)
Ralph Murphy
The man who literary wrote the book on songwriting (Murphy's Laws of Songwriting) former VP of Membership for ASCAP
Scott Billington
VP, A&R, Rounder Records, a producer with over 100 records to his credits, 28 of them nominated for a Grammy
Mark Hornsby
Director of Operations, Sweetwater Studios
Steve Jones
CEO Brash Records, Georgia State University
Scott Fetters
Director, 2112 Music, Tech, Film, Incubator
Kent Nielsen
Owner, Fort Knox Studio
Martin Atkins
Musician, Author (Tour:Smart), entrepreneur
Michael Dixon
Manager (Ron Sexsmith, Sacha Skarbek, James Blunt's producer)
John Tovar
Manager (Marilyn Manson, The Mavericks, Nuclear Valdez)
Jeri Goldstein
wrote the groundbreaking DIY book "How to be Your Own Booking Agent"
Marcia Groff
Entertainment Enterprises, a publicist with both film and music experience
Fiona Bloom
Branding expert, The Bloom Effect has produced over 1,000 shows, consulted on 200+ album projects and has been a part of over 300 artists careers.
Bonny Dolan
Managing Director/Executive Producer, Comma Music, the international, music production and licensing company, working with Apple, Nintendo, Nike, as well as artists Cyndi Lauper, Cheap Trick and Julian Lennon.
Maggie Hadleigh-West
Filmmaker
Joel C. High
Film industry music supervisor, producer, Creative Control Entertainment, has worked on over 100 films, such films as, "Saw," "Girl with a Pearl Earring," "Crash."
Entertainment Law Attorneys:
Kenneth J. Abdo, Esq.
Fox Rothschild LLP
Jeffery Brabec, Esq.
Vice President of Business Affairs for BMG chrysalis (representing the catalogues of OutKast, David Bowie, My Morning Jacket, Sherl Crow to name a few).
Todd Brabec, Esq.
Seasoned entertainment law experts brothers, former Executive Vice President for ASCAP
Jeff Becker, Esq., Swanson, Martin & Bell, LLP
whose will discuss his work with Chance the Rapper
John F. Bradley, Esq.
Bradley Legal Group
David Bercuson, Esq.
Miami, FL
Brian Caplan, Esq.
Reitler Kailas & Rosenblatt, New York, NY
Darryl Cohen, Esq.
Cohen, Cooper Estep & Allen
Wallace Collins, Esq.
New York, NY
David Dalia, Esq.
New Orleans, LA
Judith DeFraites, Esq.
New Orleans, LA
Nicholas C. Ferrara, Esq.
Nicholas C. Ferrara & Associates PLLC
David Fink, Esq.
Kelley Drye & Warren LLP
Martin Fischman, Esq.,
NFLPA Contract Advisor, New Orleans
Allen E. Frederic, III, Esq.
Jones Walker, Partner film industry
Edgar "Dino" Gankendoff, Esq.
Provosty & Gankedorff LLC
Elizabeth Townsend Gard, Esq.
Co-Director, Tulane Center for IP, Media & Culture
Lesli D. Harris, Esq.,
Stone Pigman Walther Wittmann
Scott Keniley, Esq.,
Keniley Kumar Law, work with the James Brown estate is ground breaking
Thomas R. Leavens, Esq.
Leavens, Strand, & Glover, LLC
Sabrina Ment, Esq.,
LaPolt Law, P.C.
Nadine Ramsey, Esq.,
New Orleans Councilmember, District C
Jay Rosenthal, Esq.,
Mitchell Silberberg & Knupp Partner, former Senior VP and General Counsel at the National Music Publishers' Association
Rhodes Spedale, Esq.
New Orleans, LA
Suzette Toledano, Esq., (Becker),
Toledano Entertainment and Arts Law
Cutting Edge thanks its friends and supporters: City of New Orleans Mayor's Office, New Orleans City Councilmembers, New Orleans Tourism Marketing Corporation, Mitchell Silberberg & Knupp LLP, Arts, Entertainment and Sports Law Section of the Louisiana State Bar Association, Memphis Grammy Chapter, ReverbNation, New Orleans Agenda, Fort Knox Studios and the 2112 Chicago, Chicago International Movies and Music Festival (CIMMFest), T-Watt Amplifiers, BMI, Councilmember Nadine Ramsey, Councilmember LaToya Cantrell, Harrah's, New Orleans Jazz Museum at the Old US Mint, Delgado Community College, Metro Service Group, The Ultimate Louisiana Party, Historic Carver Theater Foundation, Capitol View Arts, Historic Victory Grill and our venue partners.