Check out the stunning vinyl for Anna Burch's upcoming album Quit the Curse.
This Early Bird variant is limited to 300 and getting verrrrrry close to selling out.
[Burch's] songs have some of the lo-fi finish and scrappy energy of 1990s indie-pop…but with a sharper edge. Frank and gratifying all the same, Burch's tightly structured pop is an invigorating take on an evergreen sound. — Pitchfork
Pre-order on vinyl, CD, or tape and get an instant download of three singles!
Pre-order ship Jan. 24. In stores Feb. 2.
Quit the Curse
180-Gram Pink/White Starburst Vinyl,
CD, Tape, & Digital (MP3/WAV)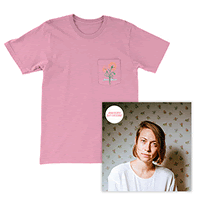 Bundles
Bundle with a new t-shirt or crewneck and save a couple bucks!